Austrian passivhaus expert Günter Lang comes to Maine to Discuss the Economies of Large Scale Passive Houses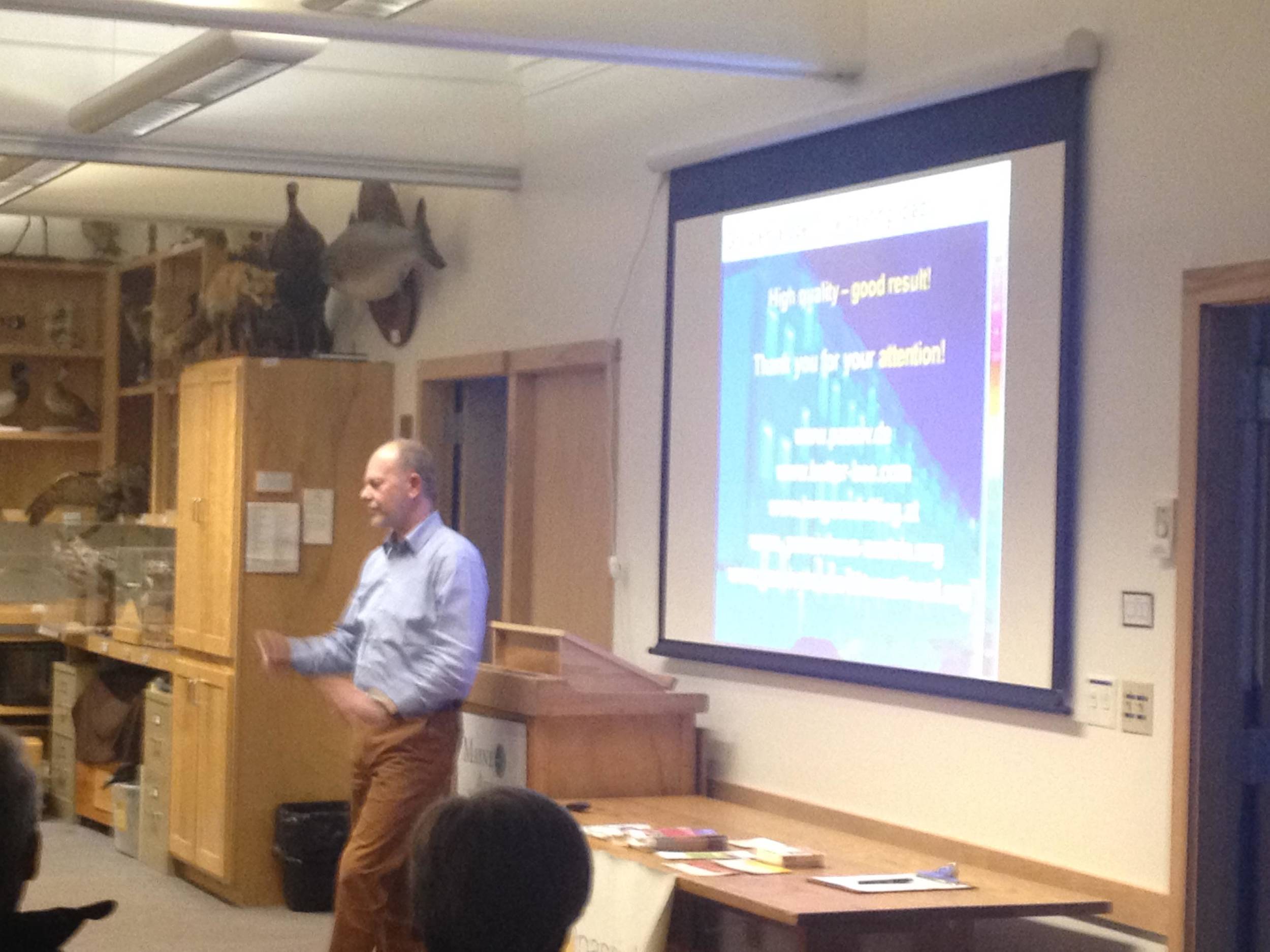 Gunter Lang discussed with great enthusiasm, the need for all buildings, both new and renovated to be net-zero or net-positive by using Passivhaus techniques to minimize heat and cooling needs.
The urgent goal is to eliminate the use of oil and gas in buildings, and provide all the electrical energy needs with renewable energy. Austria and other European countries have passed laws requiring buildigns to be Passivhaus, from city buildings, to developer builidngs to entire multi-block Passivhaus districts.
This is achieved with superior insulated shells; R-20-30 grade floor, R-40-50 walls, R-60-80 roofs were typical. Triple glazed windows, R-30 curtain walls and detailed attention to eliminating thermal bridges provided the needed insulated envelope.
Gunter showed 40-50 different large buildings: pre-fabbed homes, schools, apartments, Courts, supermarkets, offices, and skyscrapers. Every project shown had detailed information; energy/SF, costs and size. Size ranged from 50,000 SF to 2 million SF with costs averaging $140-150/SF except the largest skyscrapers, which were $ 200/SF with a 14 year payback. These buildings are very comfortable, very inexpensive to heat and cool, and have a 95% approval by tenant's.
Gunter showed a number of 4-6 story wood structured buildings and a prefabricated 900 SF house installed on site in 3 ½ hours.
He implored architects to get the word out, and start building Passivhaus buildings, which use 10% or less of the energy required with Code Designed buildings.
Add your Passivhaus building to: Passivhaus Databasehttp://www.passivehouse-international.org and Lang Consulting Websitehttp://www.langconsulting.at/
The lecture was co-sponsored by AIA Maine and Passive House Maine and well attended with almost 50 people.